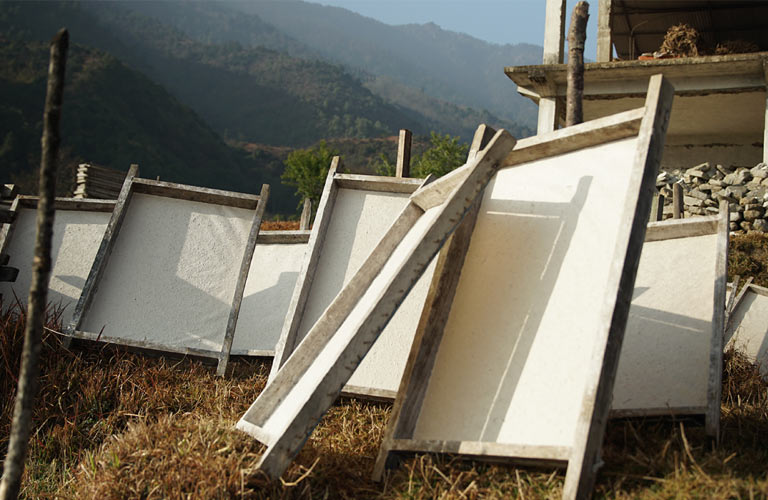 10 YEARS OF
CHANGING LIVES
IN NEPAL
In 2007, we went on a search for sustainable giftwrap and found a special kind of handmade paper high up in the Himalayas. What made the paper so special was not just its beauty, but also the opportunities it brought: to partner with artisans throughout Nepal and create income for up to 5,500 people1 in Dolohka and other districts, and to help protect Nepal's forests and animals.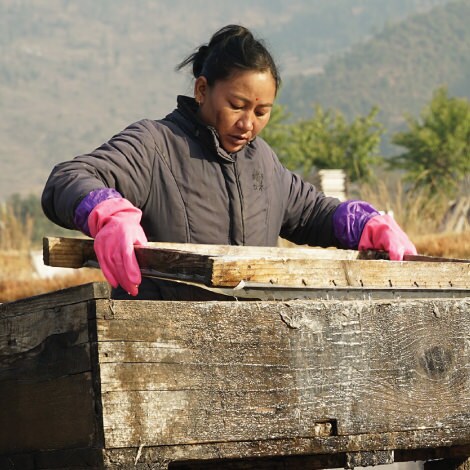 90% of Aveda papermakers are women who previously had few options for supporting themselves and their families. Januka Shrestha, a widowed mother, was working a construction job trying to earn enough to send her son to school. Her job involved hard physical labor such as breaking stones into chips. She says papermaking has empowered her to not only provide for her son's education, but also make more decisions about her household.

"Nepali mothers can be self-independent."
JANUKA SHRESTHA, PAPERMAKER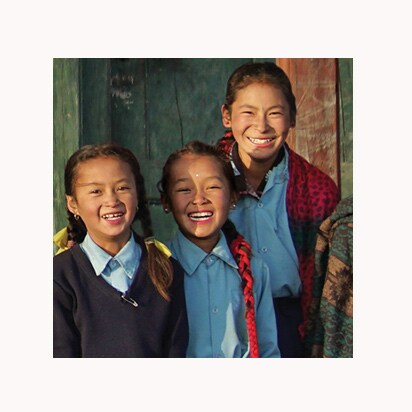 One in every three Nepali children work herding cattle, farming or making bricks to help support their families. That's why papermakers take such pride in being able to send their kids to school, with the help of the income they earn from making lokta bark paper. In fact, papermakers' daughters are often the first generation of girls to achieve secondary educations in their family. Angdoma Sherpa (at top) and her friends have big dreams for theirs.

"I wish to become a nurse. I'll feel happy serving and treating everyone in my village"
ANGDOMA SHERPA, PAPERMAKER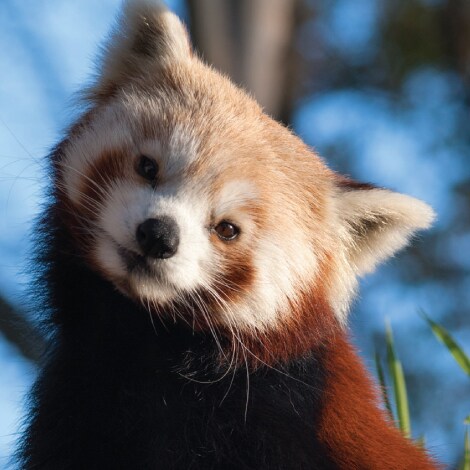 In 2009, less than two years after Aveda began purchasing paper from
Nepal, the communities who make the paper gained Certified Wildlife
Friendly® status. This certification helps reverse deforestation and
maintain 42,000 acres of habitat for Himalayan wildlife and 21
endangered species including the red panda and snow leopard.
Want to do more? Visit wildlifefriendly.org.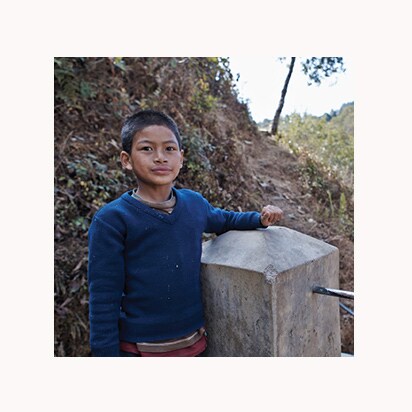 Through 10 years of partnership, we've been able to bring clean water to 9 Nepal communities, too. In places where women once had to walk hours to fetch safe water, we've constructed clean water systems that now serve 662 households and 2 schools.3 These projects were funded through light the way™ candles. Sold during Earth Month, the candles have funded water projects in 85 countries, helping 1 million people‡ around the world gain access to clean water.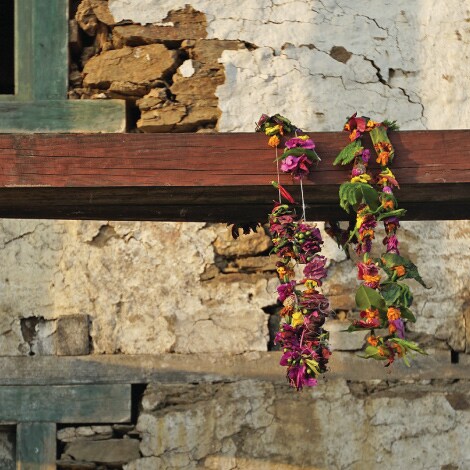 In the spring of 2015, massive earthquakes shook Nepal. Although papermaking work continues, the communities were devastated and needed ways to diversify their incomes. So, we began investing in ecosystem-based agricultural initiatives to help them increase their own livelihoods and resiliency—and hopefully, generate opportunity in their communities for years to come.
1Numbers of people who received income from Aveda papermaking by year, including full and part-time: 1,700 in 2007; 3,800 in 2008; 3,800 in 2009; 4,800 in 2011; 4,975 in 2012; 4,980 in 2013; 5,530 in 2014; 5,545 in 2015; 4,995 in 2016 (decrease due to emigration and demand for relief workers and builders after the 2015 earthquakes).
24,900 women full and part time last year, 2016-17.
3School year 2015-2016.
4As of March 2016.