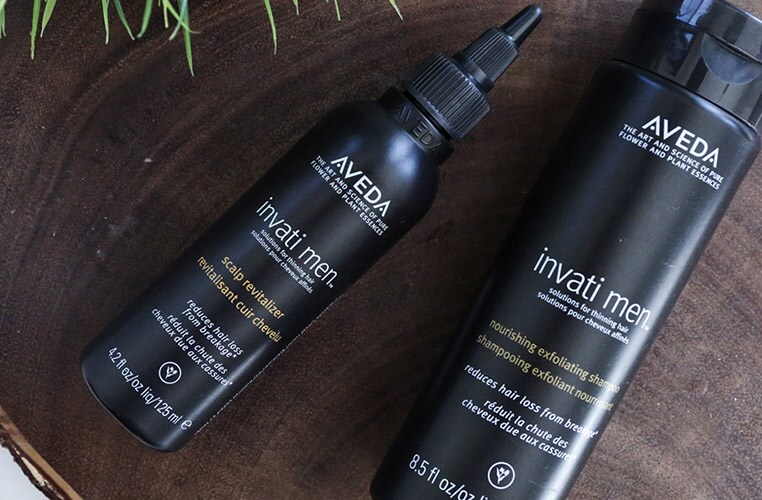 Exfoliate build-up. It's truly a fresh start.
With nourished, stronger hair, you're ready for anything.
What are the best hair products for men?
The top hair care products for men help you to meet your hair goals while repairing follicles and protecting against damage. For instance, if you're worried about hair loss and want to keep hair looking thicker and fuller, you might use invati men™ exfoliating shampoo. Take invati men™ scalp revitalizer with Amla to make hair thicker at the root and energise the scalp.
Men are often more prone to irritation and itchiness than women, so you need a high-performance hair care routine to look and feel your best. Add hair treatments for men that are formulated using nourishing ingredients like babassu nut and soybean to protect hair as you style it, such as Aveda men pure-formance™ grooming clay.
What is a hair care routine for men?
A men's hair care routine doesn't differ too much from that of a woman, especially if you have longer hair. However, there are some minor differences. Here are a few tips on how to use hair products for men:
• Throw out your two-in-one shampoo and conditioner for men and get yourself a hair care system.
• Think about your hair goals. For example, do you want thicker-looking hair? Or how about high-performance products that nourish hair without irritating the scalp?
• Don't towel dry hair aggressively, instead, gently pat it dry to avoid breakage.
• Use men's hair products sparingly and choose them carefully to reduce clogging pores without making hair appear dull.
• If you use heat to style your hair, be sure to use a conditioner that contains hydrating plant-based ingredients, like Aveda men pure-formance™ conditioner, to stop hair drying out.
How often should men shampoo?
This is a hotly contested topic. Lots of guys like to wash their hair daily so they feel fresh and clean, but this could actually be damaging your hair. Experts recommend that men should be washing their hair every two or three days, and no more than three times per week.
If you're looking for ways to revitalise your scalp and naturally thicken hair, you'll find the best shampoo for men at Aveda. Test out invati men™ nourishing exfoliating shampoo to reap the benefits of salicylic acid, derived from wintergreen, to gently remove impurities and unclog pores. Alternatively, try aveda men pure-formance™ shampoo, which contains Tamanu Nut and Licorice Root Extract to simultaneously cleanse and moisturise hair.
What is the best shampoo for men?
The best shampoo for men's hair depends on what you want to get from your hair washing experience. If thinning hair is a concern for you, invati men™ nourishing exfoliating shampoo is an effective men's shampoo for hair loss. The blend is 94% naturally derived* and formulated to remove pollutants and build-up that can clog pores and slow hair growth. For guys who are looking to use a cruelty-free shampoo that cleanses, conditions, and moisturises hair, take a look at aveda men pure-formance™ shampoo.
* Using the ISO Standard, from plants, non-petroleum minerals, or water.
What is the best conditioner for men?
Just like other hair treatments for men, the best hair conditioner for men should meet your needs and be formulated for your hair type. Take aveda men pure-formance™ conditioner, which is suitable for all hair types and contains Tamanu Nut Oil, Plai Root Oil, and Licorice Root Extract. These ingredients work together to revitalise the scalp and add a healthy-looking shine to your hair.