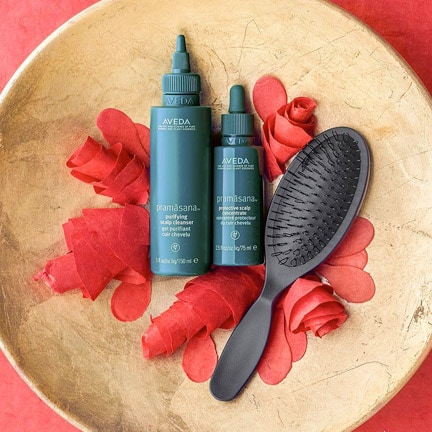 Learn More About Aveda Scalp Care
A healthy scalp is the starting point of strong, beautiful hair. It's the foundation from which your hair grows, so you want your scalp to be cleansed, moisturised, and balanced.

Your hair and scalp require different care to stay healthy. While shampoo serves to cleanse the strands of your hair, your scalp needs unique products that treat your scalp as the delicate skin that it is. That's why scalp care is an essential step in a proper hair care regimen.

We've created a range of scalp care products that gently cleanse, exfoliate, and moisturise your scalp. It also helps maintain the delicate balance of oils, or sebum, on the scalp. Sebum balance is incredibly important to scalp health because too little oil can make the scalp dry, and too much oil can build up on the scalp and clog pores.

The Pramasana™ Scalp Care system includes several products that can improve the health of your scalp. The Pramasana™ Purifying Scalp Cleanser deeply, yet gently cleanses and purifies the scalp with plant-derived cleansing agents. Wintergreen derived salicylic acid exfoliates the delicate skin and removes pollution to make way for a healthy hair foundation. Plus, an exclusive blend of ingredients helps instantly balance sebum levels. Seaweed extract, lactobacillus, and tamanu oil help balance, protect, and preserve the scalp's natural barrier for a scalp that is clean and clear.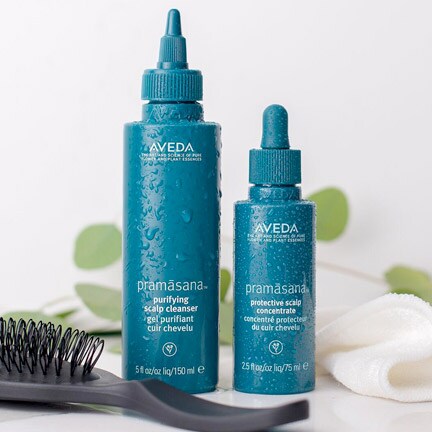 Hair and scalp oils can also help improve the health of your scalp. Shampure™ Composition Oil creates a moment of pure peace as the scent of certified organic lavender and ylang ylang are massaged into the scalp. The oil infuses moisture to hydrate and calm the scalp.

In addition to oils and treatment, the scalp can also be exfoliated and invigorated with a brush. Brushes specifically designed for the skin of the scalp, such as the Pramasana™ Exfoliating Scalp Brush, exfoliates the scalp to loosen build-up and impurities. The brushing also increases microcirculation, creating an optimal foundation for beautiful hair when used with Pramasana™ purifying scalp cleanser.

A balanced, hydrated scalp is the foundation of healthy hair, but a proper hair care regimen will take care of the hair as well as the scalp. Shampoo and conditioner are essential to any hair care routine because they keep the hair clean and moisturised. Finding the right shampoo and conditioner is all about considering your specific hair type and hair concerns. Those with thin or flat hair may benefit from a shampoo for fine hair, while someone struggling with frizz may need shampoo and conditioner for frizzy hair.

At Aveda, we formulate hair care products for every type of hair. Blue Malva shampoo enhances blonde and grey hair, while the Damage Remedy™ Restructuring shampoo is the ideal shampoo for brittle hair. In addition to shampoos, our conditioners can target specific hair concerns such as dullness or dryness. Dry Remedy™ Moisturizing Conditioner pairs with the Dry Remedy™ shampoo to create the best shampoo and conditioner for dry hair.

Your scalp and hair deserve the best care. By using natural scalp and hair care products, you create a foundation for strong, beautiful hair.