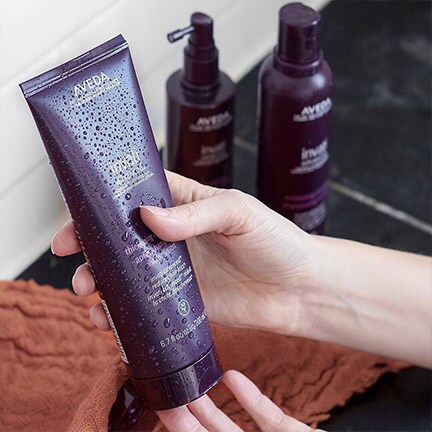 Learn More About Aveda Conditioner
Conditioner is a vital part of any hair care routine. While shampoo cleanses the hair, conditioner is the key to hair that is hydrated, tangle-free, and healthy.

Conditioner provides your hair will essential moisture, so it's especially important for people who struggle with dry or brittle hair. Dry Remedy™ moisturising conditioner works to drench dry hair with intense moisture. It takes advantage of buriti oil to help hydrate hair, leaving you with soft, supple, and shiny locks.

Conditioning your hair also helps your hair stay free of tangles. Keeping your hair tangle-free will reduce hair breakage from brushing, making your hair look smooth and healthy. Smooth Infusion™ conditioner uses a blend of organic aloe, maize, and guar bean to create a smooth surface on your hair.

The most important benefit of conditioner is keeping your hair healthy. While shampoo and conditioner for dry hair can help moisturise the strands, and shampoo and conditioner for curly hair can define curls, Aveda conditioners take your hair care to the next level. Using naturally derived ingredients wherever possible, our conditioners coat each strand of your hair, protecting it from pollutants and other elements that can cause damage. The result is hair that is healthy and strong.

Just like our range of shampoos, we've formulated a collection of conditioners that targets the concerns of several different hair types and colours. Blue Malva colour conditioner enhances blonde and grey hair, making it perfect for anyone in search of shampoo and conditioner for blonde hair. Damage Remedy™ restructuring conditioner uses quinoa protein to repair damage, creating hair that is smooth and touchably soft.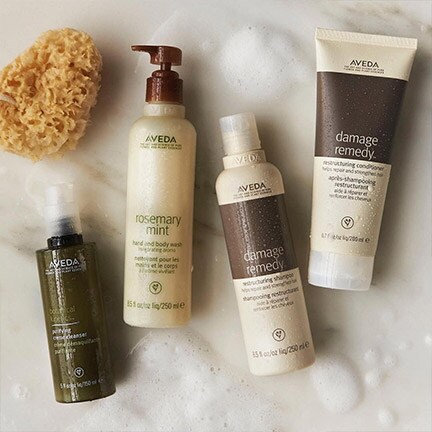 The conditioner included in the Invati Advanced™ 3-step system targets hair loss due to breakage. Certified organic amla instantly thickens hair from the source, creating a lifted appearance. Naturally derived amino acids mimic your hair's building blocks, helping to strengthen each strand from the roots to the tips. The product deeply conditions hair using a weightless blend of plant oils.

Conditioner is a fundamental part of hair care, but it's not all you need to keep your hair healthy. Hair needs a clean, nourished foundation to grow long and strong. That's why products designed for scalp care are so important.

Scalp care products help to cleanse, purify, and exfoliate the delicate skin below your hair. They also remove the build-up that can accumulate on your scalp and clog your pores. Scalp care is especially important for those who exercise or style their hair often, as sweat and styling products can cling to your scalp and cause build-up.

Our Pramasana™ protective scalp concentrate balances your sebum levels and protects your scalp from aggressors such as pollution and other free radicals. The Pramasana™ purifying scalp cleanser cleanses your scalp and removes pollution using a blend of seaweed extract, lactobacillus, and tamanu oil.

Your hair and scalp are delicate parts of your body, so you want to treat them with care. Shampoo, conditioner, and scalp care are the keys to hair that's healthy, vibrant, and beautiful.