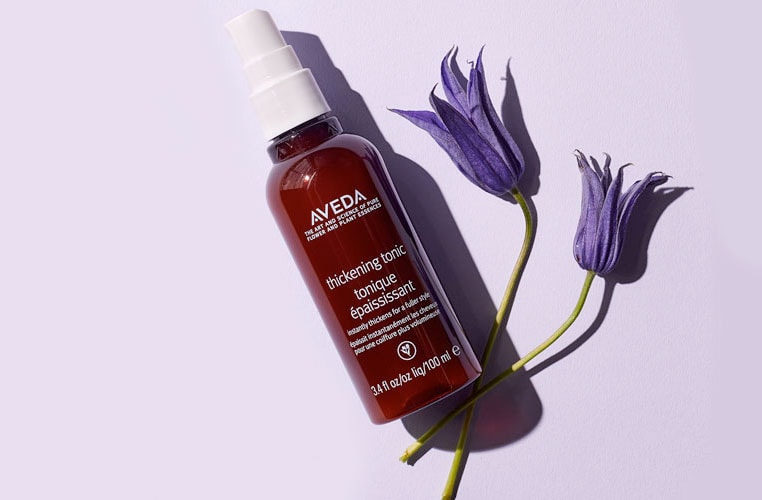 Instantly thicken for a fuller style, define and enhance natural texture or create weightless volume and shine with our Aveda tonics.
100 ml $49.00

40 ml - travel size $19.00
Hair tonic helps to fortify your hair and scalp by conditioning your hair, improving its texture and adding a glowy finishing touch to complete any hairstyle. Hair and scalp tonic is often developed with nourishing ingredients that combat specific hair care concerns so that every day is a good hair day.
How do you apply hair tonic?
Applying hair tonic couldn't be easier: simply shake the bottle and spritz thoroughly from roots to ends, combing the product through for an even distribution.
For even better results when using a hair tonic for volume, lift your hair in sections while blow-drying and point the nozzle of the dryer at the roots. Tip your head upside down and use your fingers to massage the tonic into your roots as you dry.
Each of our foams comes with specific instructions for anyone wondering how to use hair tonic correctly.
Can you use hair tonic for hair loss?
Definitely! A good hair loss tonic will stimulate blood flow and support your hair follicles to promote growth. Our thickening hair tonic is a great option for this. Featuring a botanical blend of certified organic amla, wheat and corn, this hair tonic expands every strand of your hair for a fuller look from roots to ends. Our volumizing tonic™ also does an excellent job pumping up the volume for fine and medium hair. This hair tonic creates maximum weightless body for flawless, voluminous hairstyles.
What's the best hair tonic for texture?
If you want to enhance your hair's natural texture effortlessly, give our texture tonic a try. The magnesium sulphate helps contract and compress hair to instantly create a defined texture, while the cane sugar works as a natural humectant to provide a touchable texture infused with natural shine.
EVERYONE'S TALKING ABOUT #TONIC