Nothing gives you confidence and poise like healthy, radiant hair. No matter your hair's type, texture, or colour, beautiful hair begins with a healthy hair care routine.
We know that proper hair care is important, but what do products like shampoo and conditioner really do for your hair?
In truth, both shampoo and conditioner have a huge number of benefits for the overall health and appearance of your hair and scalp. From increasing moisture to targeting dullness, the right hair care products can make all the difference in the strength and beauty of your hair.

SHAMPOO
At its core, shampoo works to keep our hair clean and strong by ridding it of dirt, hair products, and build-up. Without it, your hair and scalp can suffer the consequences of scalp imbalance, loss of moisture, and hair damage.
But using shampoo doesn't just keep your hair clean; it also serves to keep your hair and scalp healthy. Aveda's naturally derived ingredients help create shampoos that are good for your hair and scalp because they are plant and flower-based. These plant-based ingredients are gentle on hair and easily wash out, unlike synthetic products that can cling to hair and create a dull and heavy look. Aveda's natural ingredients infuse your hair and scalp with moisturising oils, renewing extracts, and natural aromas that enhance your hair's health and hygiene.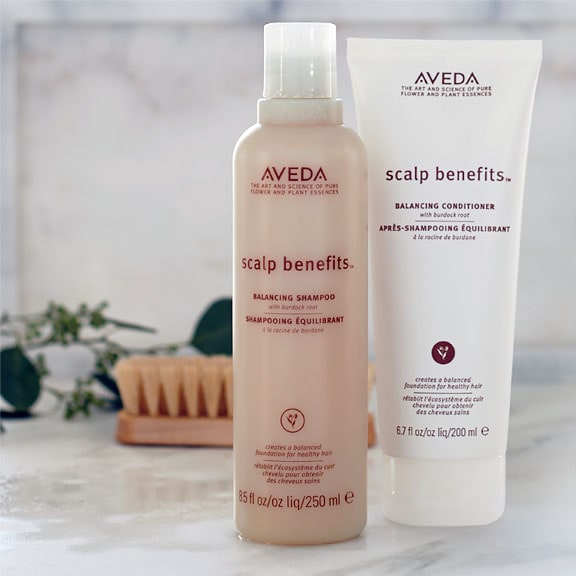 Additionally, shampoo can help solve several common hair and scalp issues. Those who suffer from brittle or breaking hair can benefit from a shampoo for dry hair, while victims of itchy or flaky scalps can find refuge in a shampoo that focuses on balancing the scalp. There are several Aveda shampoo formulas that target an array of troubles, from reducing frizz to defining curls.
Shampoo is also essential for those who have coloured their hair. Formulas designed especially for coloured hair help your treatment last longer and your pigment stay vibrant. Not only does shampoo protect coloured hair, but also natural tones. Aveda offers shampoos that enhance and enrich natural hair colours with natural ingredients. Golden locks stay shiny with shampoo for blonde hair, while clove shampoo helps brown hair look rich and lustrous.
While regular shampooing is important, using a dry shampoo offers a solution for busy days between your regular washes. Dry shampoo cleanses and revives your hair by using a non-aerosol powder mist to absorb excess oil.
Whether you require a shampoo for fine hair or a shampoo for grey hair, choosing the best shampoo for your hair type ensures that your scalp feels nourished and your hair stays strong and healthy.

CONDITIONER
A high-quality shampoo is vital for cleansing and refreshing your hair, but conditioner has an equal number of benefits for the overall health of your hair. Together, shampoo and conditioner make sure that your scalp and hair are moisturised and protected from damage.
The major benefits of conditioner lie in its conditioning properties. When you apply conditioner, the product wraps around the strands of your hair, sealing in moisture and adding softness. Aveda's naturally derived ingredients not only benefit the strands of your hair, but your scalp as well. Nourishing oils and extracts are gentle on the delicate skin below your hair.
Conditioner instantly smooths and softens your hair, but its benefits last long after you leave the shower. Because conditioner coats each strand with beneficial ingredients, your hair is better protected against damage. Several common habits can cause damage to your hair including using heat tools, combing, and even drying with a towel. Using an Aveda conditioner helps protect your hair from breakage and frizz.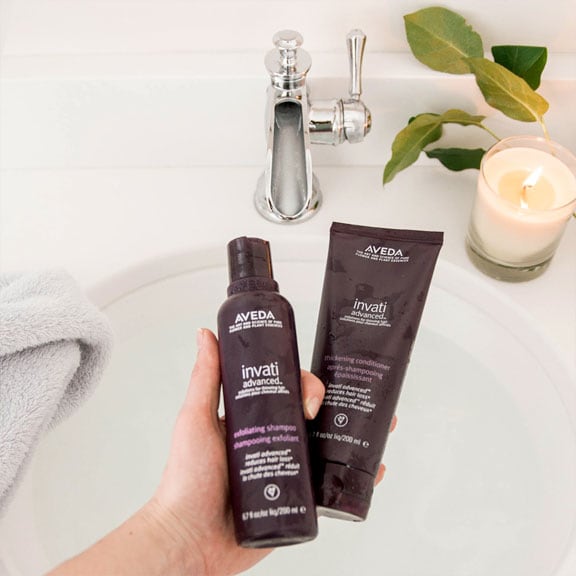 Like shampoo, conditioner can target specific hair and scalp problems. Conditioner can boost fine or flat hair, restore softness and shine, and enrich hair colour. Using the right combination of shampoo and conditioner has the power to completely rejuvenate your hair. Aveda even offers a dry conditioner to follow your dry shampoo for an instant conditioning and detangling effect.

CO-WASH
Hair comes in a huge range of colours, types, and textures. Each type of hair can benefit from different hair care routines, and curly hair is no exception.
Co-washing, sometimes called conditioner washing, is a hair care routine in which the hair is cleansed and conditioned using just one co-wash product. A co-washing product can hugely benefit textured hair by reducing dryness, adding moisture, and defining waves and curls.
Co-wash works by conditioning curly hair while removing build-up and cleaning the scalp. Conditioning the hair eliminates frizz and improves the look of curls while a low-lather wash keeps the scalp balanced and clean. Aveda's co-wash is sulphate-free, creating a gentle cleanse that won't dry out curls. Using certified organic babassu oil, Aveda's co-wash moisturises curls for up to 3 days and leaves hair soft and smooth.
For many people with textured hair, a good co-washing product is essential to the health and lustre of their hair.
No matter your hair type, shampoo, conditioner, and co-wash are necessary in keeping your locks lustrous and your scalp healthy. They cleanse, moisturise, condition, and address a number of everyday struggles.
Shampoo, conditioner, and co-wash are the keys to unlocking your most radiant hair.